Umlaut Big Band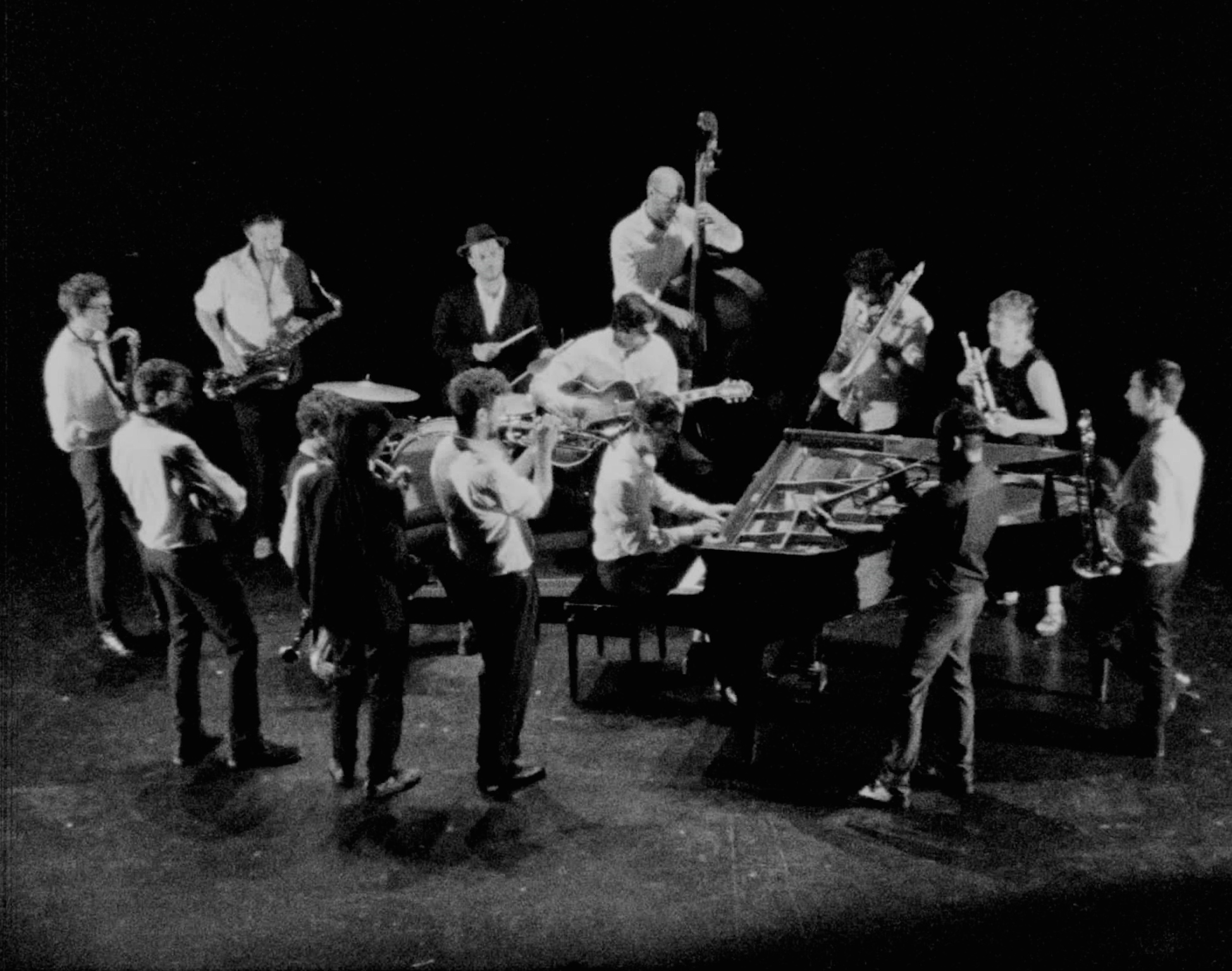 © Léa Lanoë
The Umlaut Big Band is an orchestra of fourteen musicians. Since 2011, under the direction of Pierre-Antoine Badaroux, the band has been exploring both the historical repertoire of the Big Bands (1920-1940) from rare sound and manuscript archives, those of Mary Lou Williams, Don Redman, Fletcher Henderson, Duke Ellington, Benny Carter and other American and European artists, as well as a more contemporary creative repertoire with commissions to composers with an intimate relationship with jazz, such as Alexander Von Schlippenbach, Jean-Luc Guionnet, Axel Dörner, Bertrand Denzler and Joel Grip. They have developed a repertoire of over 200 pieces and released 5 albums in 10 years.
Following the example of the early music orchestras, the historical research of the group is based on the conviction that the arrangers, rarely put forward in the history of jazz, are creators who constantly invent new forms.
Too rarely approached by today's composers, the Big Band format lends itself ideally to rich sonic explorations, a dialogue between a long tradition linked to jazz and contemporary forms of invention.
In 2023, the Umlaut Big Band becomes the Umlaut Chamber Orchestra to bring Mary Lou Williams' Zodiac Suite (1945) to life in a new version based on a critical study of the original manuscripts.
Coming from a "generation of musicians ready to go from one extreme to the other of jazz" (Jazz Magazine), the group favors acoustics and warm atmospheres, from large concert halls to village squares.
In residence at the Théâtre de l'Aquarium (La Cartoucherie, Paris 12e) since 2019, at the invitation of the company La Vie Brève.
---
14 July 2023
Umlaut Big Band
Guinguette de Tours-sur-Loire (FR)
---
15 July 2023
Umlaut Big Band
Le Grand Jeu, Dignac (FR)
---
17 July 2023
Umlaut Big Band
La Grange de l'Oiseau Bleu, Arthel (FR)
---
18 July 2023
Umlaut Big Band
Eymoutiers (FR)
---
20 July 2023
Umlaut Big Band
Sainte-Foy-la-Grande (FR)
---
21 July 2023
Umlaut Big Band
Ile de Ré, La Java des Baleines (FR)
---
22 July 2023
Umlaut Big Band
Festival du Souffle, Celles-Sur-Belle (FR)
---
More info
30 September 2023
Zodiac Suite
Théâtre de Saint- Quentin-en-Yvelines, scène nationale, Montigny-le-Bretonneux (FR)
---
14 January 2024
Mary's Ideas
Théâtre de Choisy-le-Roi, Choisy-le-Roi (FR)
---
15 March 2024
Mary's Ideas
L'Hectare, Vendôme (FR)