Schnell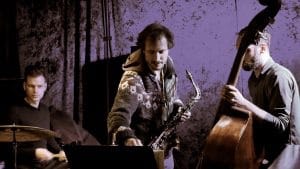 ©
The bebop tradition as a starting point to investigate speed, stasis, trance, intuition and limits.
The music of some great masters of the jazz and bebop tradition such as Parker, Monk, McLean, Powell and Ellington is for the trio a "memory basket", an archetype to confront their own language with. Speed is the key element of the process but it doesn't function in a mechanical way, it rather transforms the language by pushing the players to their limits, forcing them to develop new strategies, both individually and collectively.
Bebop became repertoire music long ago and the rational and aesthetic side of it took slowly over, leaving the improvisational process behind. For Schnell, improvisation is still the core of that music, and plays it on its verge, at high speed, where body memory, intuition and the unconscious are essentials.
Website : antonioborghini.com/schnell