Pat Thomas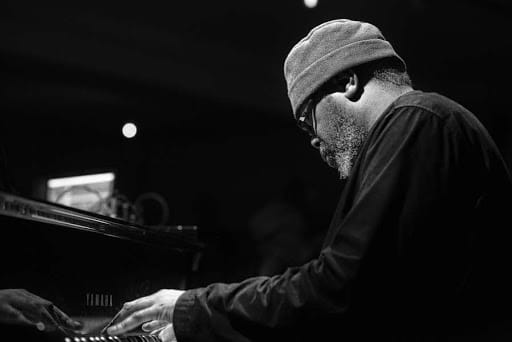 Born 27 July 1960; Piano, electronics.
Pat Thomas started playing at the age of 8 and studied classical music and played reggae. He began playing jazz at sixteen after seeing Oscar Peterson on television then listened to snatches of jazz on the radio before, in 1979, playing his first serious improvised gigs. From 1986 he played with Ghosts which was Pete McPhail and Matt Lewis.
In 1988 he was awarded an Arts Council Jazz Bursary to write three new electroacoustic compositions for his ten-piece ensemble, Monads: Roger Turner and Matt Lewis, percussion; Pete McPhail, WX7 wind synthesizer; Neil Palmer, turntables; Phil Minton, voice; Phil Durrant, violin; Marcio Mattos, bass; Jon Corbett, trumpet; Geoff Searle, drum machines. The intention was to feature different aspects of electronics using improvisation.
Pat Thomas was invited by Derek Bailey to play in Company Week in 1990 and 1991 and he also took part in the Ist International Symposium for Free Improvisation in Bremen with the guitarist. He has been a member of the Tony Oxley Quartet (documented on Incus CD 15) and played in Oxley's Angular Apron along with Larry Stabbins, Manfred Schoof and Sirone at the 8th Ruhr Jazz Meeting and in the percussionist's Celebration Orchestra. He plays with Lol Coxhill in a range of combinations from duo to being a member of 'Before my time', is a member of Mike Cooper's Continental Drift, and he has a well established duo with percussionist Mark Sanders and a trio with Steve Beresford and Francine Luce. In 1992 Pat Thomas formed the quartet Scatter with Phil Minton, Roger Turner and Dave Tucker; funded by the Arts Council they toured the UK in 1993 and again at the beginning of 1997.
Agenda - Pat Thomas
---
More info
07 October 2023
[Ahmed]
UH Festival, Budapest (HU)
---
More info
14 October 2023
[Ahmed]
Night of Surprises, Stadtgarten, Köln (DE)